azure residences, azure urban resort residences, rio in azure urban resort residences,gramercy residences, gramercy residences at century city,century city,knightsbridge residences at century city,knightsbridge residences,love moon,winalite,immigration services,company formations,courier,management & marketing services,international trade,import,export,investments,procurement,logistics,security consulting services
The GRAMERCY RESIDENCES at CENTURY CITY
HISTORY RISING!!!
From the creator of Bellagio in Las Vegas............
Universal City Walk in Los Angeles.............
Roppongi Hills in Tokyo.....................
and The City of Dreams in Macau
Jon Adams Jerde of the Jerde Partnership International, world-renowned urban planner.
AND From Century Properties acknowledge as a true innovator and leader in property development, responsible for the creation of some of the most unique, outstanding and visionary projects in Philippine real estate history!!
c o m e s ............
Century City ......experience high rise living with a 24/365 dynamic.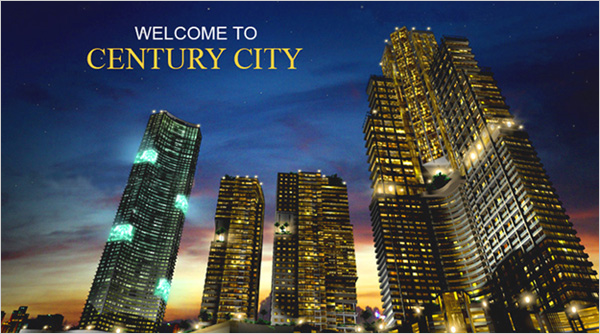 The Gramercy Residences, the first residential tower to rise at Century City. Inspired by the spirit of the great city of New York, The Gramercy Residences will be the first tower to rise at Century City. This ultra-exclusive hyper-amenitized condo project takes its name from Manhattan's ultra-exclusive Gramercy Park; a fenced-in private park in New York City's most prestigious of neighbourhoods, accessible only to the well-heeled residents of the buildings in the area who are assigned keys to the park. Featuring fully-fitted and fully-furnished interiors with 6 different design options, it's the ultimate in bespoke living. The Gramercy Residences is also fully-serviced, with hotel-style services available to you 24 hours a day, 365 days a year, making it the only hyper-amenitized residential building in the Philippines. It will be the ultimate Makati Address for you who have come to expect a degree of quality, design and service on a par with the best in the world. And the Gramercy Residences would be the tallest building in the Philippines upon turnover, over 80 storeys high. Turnover would be on mid 2011. At The Gramercy Residences, we promised to exceed your highest expectations.

MAKATI
The City of Makati is the undisputed financial, commercial, and social center of the entire country. Known as the business and entertainment capital of the Philippines, Makati is the hub of urban energy and vigour, where a multitude of exhilarating dining establishments, 6 five-star hotels, the hottest nightspots and the country's most popular shopping malls are located. The city also allows full access to the top schools, churches, the head offices of all the banks and financial institutions, embassies and the Metro Rail Transit (MRT) station.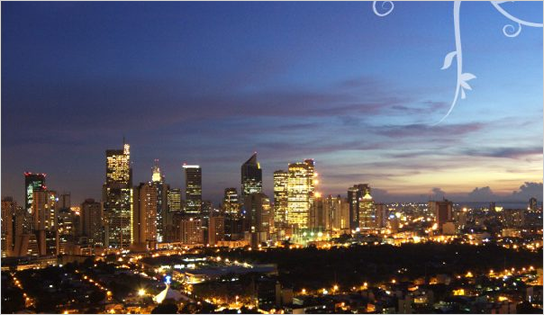 * 6 DESIGN OPTIONS

Century Properties pioneered the Fully Fitted Fully Furnished concept, with its twin tower residential project at the Fort called South of Market. At the Gramercy, residents get a choice of not just 1, 2, or 3 fabulous interior design options but 6. It's luxury condo living to the next level!
1. ARISTO: This elegant living space combines modern design with contrasting neutrals and tones, and touches of old world furniture.
2. AZULI: An interplay of arresting blue, pristine white and butter yellow adorn this lively pad, topped off with complementary oriental accent pieces.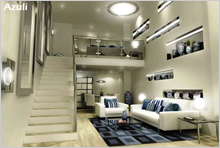 3. BARLEY: Black and gold merge to create a strong sense of character in this design, given a further edge by retro-classic furniture, carved mirrors and high-gloss finishes.
4. LUSH: Enjoy the comforts of living in an inviting contemporary style.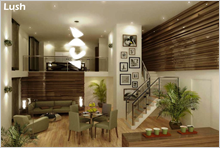 5. SAVANNAH: Subdued contemporary design merges with bold animal prints and rich dark leather to create the perfect pad for the adventurous frequent traveller.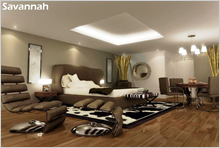 6. SLEEK: Neutral shades combined with dazzling silver, reflective light fixtures and funky artwork make this pad truly stylish and unique.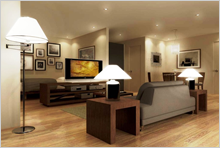 * FULLY FITTED

In order to make your move a hassle-free experience, all units at The Gramercy come fully-fitted and stylishly furnished. No longer will you have to worry about buying a kitchen and dining room showcase, or set up a home entertainment center. No longer will you have to ensure that every room is furnished, has a television, or air-conditioning. Our team of exceptional interior designers will be taking care of everything for you for free! Imagine moving in to your brand new unit with everything you need already inside. NO HASSLES of expensive interior designers, messy contractors and dusty construction.
At Gramercy, a luxury living start the day the unit is turned over to you. What's more, Century Properties takes bespoke living to the next level with more interior design options to allow you to truly personalize your future home.
Standard & Fully Fitted unit fittings
* FLOOR PLANS

All residential floors at the Gramercy ensure breathtaking views of different parts of the city, as all units open up to large balconies with picturesque angles of the Makati skyline, Fort Bonifacio, Ortigas and even Manila Bay.
View floor plan
Single Level Plan
Loft Lower Level Plan
Loft Upper Level Plan
Loft Lower Level Plan (Option 2 - units 1 & 6 are 3BR lofts)
Loft Upper Level Plan (Option 2 - units 1 & 6 are 3BR lofts)
go to top
* UNIT PLANS
Form and function play key roles in the design of each unit, with every space maximized, every furniture exuding timeless sophistication.
Flat or Single Level Unit Plans:
Studio Single Level
1BR Single Level
2BR Single Level
3BR Single Level
Loft Unit Plans:
Loft 1BR Plan
Loft 2BR Plan
Loft 3BR Plan

Gramercy Residences will feature a one of a kind, SKYPARK. Located 36 stories above ground, the Skypark will be 3 stories high and will include all the 24/365 hyper-amenities of Gramercy Residences. It will have 3 kinds of world class swimming pools, 3 kinds of gym, bars and restaurants, cascading waterfalls and many more. The Skypark will have a magnificent view of Makati Skyline and surrounding areas.

go to top
AMENITIES:

Located within Gramercy's SkyPark
The Gramercy Residences will be the only 24/365 hyper-amenitized luxury high-rise in the Philippines boasting of features and luxuries never before attempted anywhere else in the world.
* Three World-class Swimming Pools
* Cascading Waterfalls
* Three Distinct Gyms
* Cafe and Restaurant
* Yoga/Pilates Room
* Spa and Massage Center
* Day Care Center
* THX Theater
* DVD Library
* Resident's Lounge
* Conference Room
* Library/Book Club
* Other Amenities within Gramercy:
Internet and Cable TV Ready units
Children's Playground
Meditation Garden
Wine Bar & Storage
Beauty Salon
Emergency Clinic
Place of worship
Other 5-Star Services within Gramercy
For enquiries pls email us at gramercy@retac-asia.com or call us at (852) 3416 9898